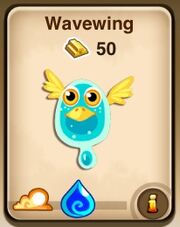 Wavewing

Colors:

Yellow and Blue

Relations:

Dream Bird and Blue Blob

Earns:

140 coins or higher

Habitats:

Blue Marsh or Yellow Mesa
The Wavewing is another one of the first you'll get in the game. You can get it by breeding Dream Bird and Blue Blob.
sincerely,your monster story friend,
Gavin :)
Baby:
Teen:
Adult:
Epic:
Ad blocker interference detected!
Wikia is a free-to-use site that makes money from advertising. We have a modified experience for viewers using ad blockers

Wikia is not accessible if you've made further modifications. Remove the custom ad blocker rule(s) and the page will load as expected.