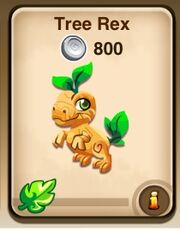 Tree Rex

Color:

Green

Relations:

Earns:

100/hr - 470/hr

Habitats:

Green Glade
Tree Rex looks a tyrannosaurus monster as seen in Monster Story.
100 coins/hour
Common
Baby: Young Tree Rex monsters are known to stomp furiously on the ground with their eyes locked on a nearby coconut drink or puddle, in effort to produce ripples. As Tree Rexes mature, plants matching the local flora grow on their backs.
Teen:
Adult:
Epic:
Green Glade or Big Green Glade
Ad blocker interference detected!
Wikia is a free-to-use site that makes money from advertising. We have a modified experience for viewers using ad blockers

Wikia is not accessible if you've made further modifications. Remove the custom ad blocker rule(s) and the page will load as expected.